Deputy Kurt B. Wyman Park
Fall Fest 2022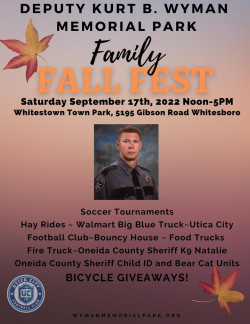 Saturday, September 17, 2022, from 12:00pm (Noon) - 5:00pm
Whitestown Town Park, 5195 Gibson Road, Whitesboro, NY
For this year's Family Fall Fest we are having an 8-bicycle GIVEAWAY! as well as many more activities:
Soccer Tournaments
Hay Rides
Walmart Big Blue Truck
Utica City Football Club
Bouncy House
Food Trucks
Fire Trucks
Oneida County Sheriff K9
Children's ID's By Oneida County Sheriff's Office
Bear Cat Units
Motorcycle Slow Ride (details below)
12th Annual Deputy Kurt Wyman Memorial Motorcycle Ride
Saturday September 17, 2022 the 12th Annual Deputy Kurt Wyman Memorial Motorcycle Ride will begin at the Harley-Davidson of Utica and end at the Whitestown Town Park, 5195 Gibson Road, Whitesboro, NY. Registration 8:30am-9:30am. Opening remarks at 10:00AM. Ride begins immediately after opening remarks. Cost $25.00 Driver, $5.00 Rider.
Free food and drink will be provided to the drivers/riders upon the return to the park at the conclusion of the ride.
For additional information, please visit the Kurt Wyman Motorcycle Ride Facebook page or email info@wymanmemorialpark.org.
 
Motorcycle Slow Ride
After the ride returns to the park, there will be a "SLOW RACE" that all participants in the ride will have the opportunity to participate in. Each participant will donate $5 to participate in the slow race. There will be a straight-line course set up at the park. The rider that is able to take the longest amount of time to travel between two set points (distance yet to be determined, most likely 50 to 100 yards), will win half of the proceeds from the slow race. Riders are limited to 2 wheeled motorcycles. Riders can't put their feet down once they start forward motion. Riders must stay within course boundaries. Spectators are welcome. (Other rules apply. All riders must sign a liability waiver to enter.)
Posted: Thursday, August 25th, 2022